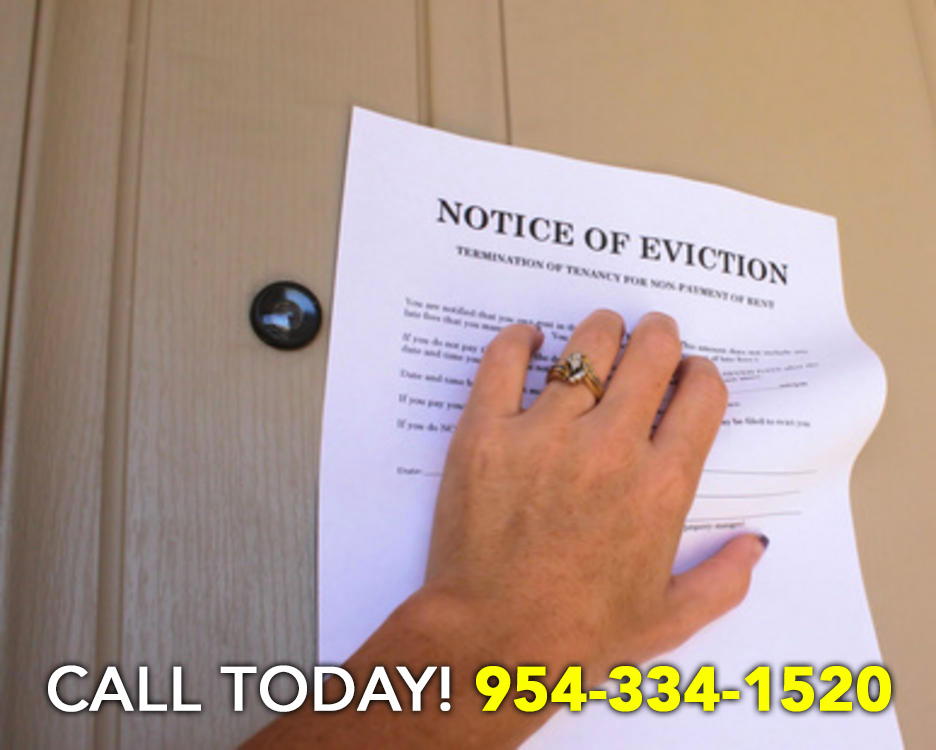 Are you in the Coral Springs area and are planning to evict a troublesome tenant or are a tenant who has been served an undue eviction notice? If the answer is yes, you will need to contact an experienced Coral Springs eviction attorney such as Reinfeld & Cabrera, P.A. We say "don't go through an eviction without an attorney" and here's why…
A Coral Springs eviction attorney will be practiced and knowledgeable in the area of eviction and landlord law within your area. Because property law often differs from one state to the next you will want an eviction attorney who knows what they are doing when it comes to the specific details and complexities of eviction law in Florida and Coral Springs.
As eviction attorneys in Coral Springs, Reinfeld & Cabrera aim to avoid eviction litigation as much as possible by drafting lease agreements which are fair and protect their landlord and tenant clients. This will prevent you from running into an unfavourable eviction situation and the costly affair of litigation.
However, if the need for litigation does arise, you will definitely want the help of a practiced Coral Springs eviction attorney. Because an eviction lawsuit is usually shorter than regular civil cases, there is a higher toll for this expedited treatment. Landlords must comply with many complex protocols, for example they must notify the tenant of the lawsuit and they have to file many papers and forms. Another thing to think about when resorting to litigation is that the tenant's home that's at stake, so a judge may not easily rule in the favour of the landlord. It is not as easy for a landlord to win an eviction lawsuit as many people may assume, even if the case is pretty straightforward.
The eviction attorneys at Reinfeld & Cabrera are experienced in many aspects of landlord and eviction law and we will be able to assist you no matter what specific issue you are dealing with. As Coral Springs eviction attorneys we are skilled in dealing with the following scenarios:
Large commercial evictions
Assignment and sublet disputes
Security deposit claims
Disputes between roommates
Nuisance claims and condemnation
Destruction of the premises
Premises liability and indemnity
Enforcement and defense of rent escalation provision
Landlord remedies (including acceleration of rent)
Disputes involving the renewal and exercise of options to renew
Wrongful or constructive evictions
Breach of lease agreements
Summary of proceedings
Vacating of premise
Abandonment of personal property
As you can see, there are a myriad of issues which may arise or affect your case when you are dealing with the eviction process so you will want to have your Coral Springs eviction attorney by your side to guide you through it all. Don't let yourself be a victim of unfavourable eviction proceedings, contact Reinfeld & Cabrera for Coral Springs eviction attorneys you can count on.