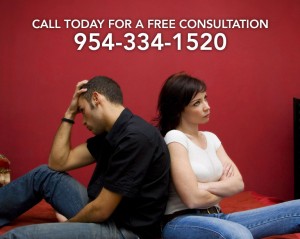 As one of the most difficult and emotional processes to go through, divorce is not something you should face alone. With an experienced divorce attorney – such as Reinfeld & Cabrera P.A. – who is invested in your personal well being, by your side you can feel secure that the process will be as stress free as possible. As a divorce attorney who truly understands the emotional, financial and personal difficulties surrounding divorce, Reinfeld & Cabrera P.A. are here to walk you through some important things to consider when asking yourself "should I get a divorce?"
Often the desire to rush through the struggles of a divorce leaves little time for couples to truly evaluate the feelings, thoughts, options or consequences surrounding a divorce. In wanting to get through the divorce process as quickly as possible, couples are often completely unprepared for the roller coaster of emotions, life-changing decisions and the complicated legal system that comes with divorce. Without the guidance of an experienced divorce attorney who understands their needs, couples generally find themselves making agreements that they cannot sustain and most often find themselves tangled up in messy court cases. Without a divorce attorney who has your best interests at heart the process of a divorce could become a nightmare on top of an already shattered dream.
In Florida there are 3 options to proceeding with a divorce:
Hiring a divorce attorney: often this is the best option, as a divorce attorney will provide you with any legal protection you may need from your spouse as well as investigate all of the details surrounding the value of material assets and spousal earnings.
DIY Divorce: This is best suited to uncomplicated divorces. It allows you to fill out and file all the legal documents and forms with the court on your own.
Pro-se/Pre-suit Mediation: this is based on a mediator who is trained to guide divorcing couples towards an agreement and an uncontested divorce.
Before deciding on which option you will take, you must think about the various legal intricacies that accompany a divorce. Such things include (but are not limited to):
Residency Requirement: To obtain a divorce in Florida, you or your spouse must have resided in Florida for at least six months before the filing of the petition.
Parental Responsibility: Chapter 61 of the Florida statutes that governs divorce provides for "shared parental responsibility".
Your MSA: Characteristically there are five specific topics that need to be discussed during divorce mediation and then incorporated into the Marital Settlement Agreement (MSA) – Parenting, Equitable Distribution, Alimony, Child Support, and Everything Else.
Equitable distribution: This complicated process is the fair (but not necessarily equal) division of all marital property, assets, and debts governed by Chapter 61 of the Florida statutes.
Concerns about housing, money, children, child support, child care and custody, and alimony are stressful and intimidating. Therefore it becomes important to have a divorce attorney who cares about your needs (and the needs of your family) represent you with the unique skill and understanding required in such a stressful time.